Saturday, we went to the annual Sparkleberry Country Fair. We had planned to stay for about an hour, but had so much fun that we ended up staying for close to 4 hours!

They had horse-drawn wagon and carriage rides, so we did that first. It was so relaxing! It almost made me want to sell our car and move to Amish country.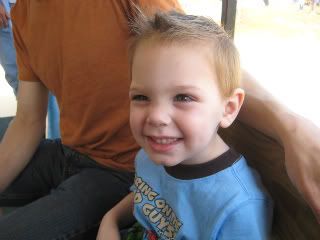 There was a petting zoo/barn that Caleb really seemed to enjoy.





Petting a mother goat (there were also some 2-week-old kids, but I couldn't get a good picture of them...they were SO cute)



There were a lot of rabbits. They had a breed chart posted as well. I had no idea there were so many breeds of rabbits!

This is a French Lop




This rabbit was huge! The pictures don't do it justice. He weighed 23 lbs! He was a German Giant rabbit, which happens to be the largest breed of rabbit (seriously, that breed chart was great).




Two rabbits snuggling...aww!



Caleb loved petting all of the barnyard animals, and, yes, there was tons of hand sanitizer available!


The fair also had an exotic petting zoo this year that was really neat! In addition to an alpaca, baboons, macaws, and camels, there were also several animals that I'd never seen in person: two coatimundis, a watusi, a yak, and a binturong (bearcat). Very cool!

One of the baboons sneaking a little snack from the feed bag



The alpaca...I was totally feeling that bad hair day!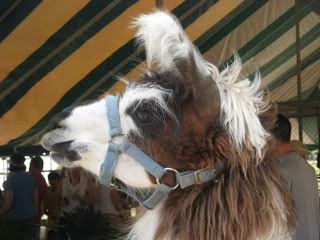 Scooping Caleb up after a close encounter with Sally the camel that he did not care for



Here's a short clip of the two coatimundis chasing a bee:


The binturong (which I had never even heard of)

Then, of course, there was Caleb's favorite thing... pony rides! Again! Two pony rides in one week. I hope he doesn't start to think this is a weekend tradition!

Ready to ride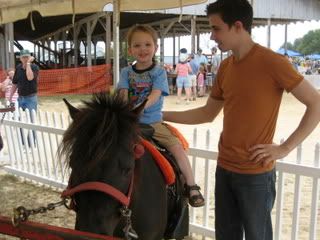 Pure Bliss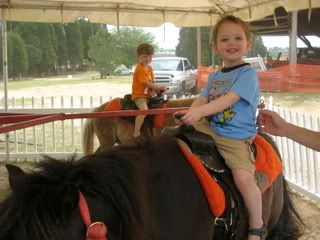 There was a short parade which basically consisted of tractor after tractor after tractor (gotta love SC).



Pink Tractors?!?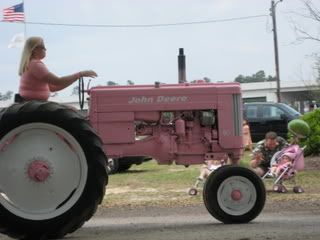 Watching the parade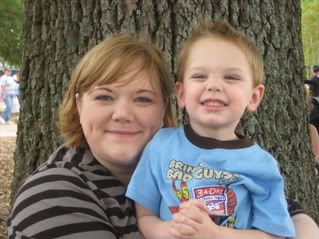 This is what we thought of all the tractors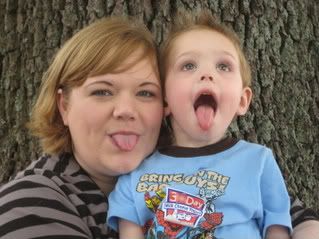 Before leaving, we promised Caleb that we would ride the wagons one more time. Our first ride was in a wagon, but we rode in a carriage the second time. Our driver was really nice, and she told us a lot about the horses that pull the carriages. Our particular horse was a beautiful, 2500 lb. Percheron named Sir Lancelot. She said that all of their draft horses have to pass a driving test in order to be able to drive on a road. Apparently, they can learn to recognize street signs and traffic signals! Isn't that amazing?

"Lance" in action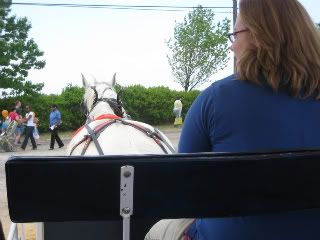 Wish we could have stayed all day!